Filmmaker R. Shanea Williams On Making Her Short, Paralysis
Production still by Adam Richlin

R. Shanea Williams
' award-winning short,
Contamination
blew me away. There's no other way to describe how amazing the performances and technical touches were. The atmosphere immediately inspired concepts of being low-key genre, a darkness that underlined a work that cannot be necessarily be labeled horror or thriller, but Williams' influences are clear. She has a deep commitment to the horror genre much to my delight. And a specific mission to offer other women of color starring roles where we struggle for prominence.
By
R. Shanea Williams
(
@rshanea722
)
Our communication since has been consistent. On the dawn of her latest project, a supernatural psychological horror construction titled
Paralysis
, I asked the filmmaker to offer a taste of insight into creating this story.
Paralysis
centers around a photographer suffering from a sleep disorder who begins to believe that something very dark and supernatural is infesting her mental wellness. Her words explicate beautifully her intimacy with such a terrifying experience and the process of bringing it to life.
This story came to me definitely in a very organic way. I didn't even know this was going to be a horror film until I really started writing it. Seriously. The greatest writing advice I've ever received came from my professor Daniel Goldfarb while I was in the graduate Dramatic Writing program at NYU. One of the things he said was "Write what you're afraid of." So I ALWAYS start there when I'm toiling with an idea.
Sleep paralysis is terrifying if you've ever experienced it. I've occasionally had it for a few seconds and it's really a scary feeling. When I started researching it, I learned that this is a severe and serious condition for some people who experience it for extended periods of time. I kept thinking if that's the case, how horrifying must it be to know that every day night is coming and you fear sleeping. How does one cope?
I'd already been kicking around this idea about my protagonist Jessica and that she was this tough yet emotionally wounded woman, fighting inner demons. Next thing you know it all just clicked, Jessica has been battling sleep disorders, especially sleep paralysis as well as depression.
Growing up loving "The Twilight Zone" (thanks to my Mom), I always wanted to make something psychologically dark and eerie. I'm really obsessed with the Unknown. Psychological horror is my favorite subgenre of horror and so it all just pieced together.
I worked tirelessly on the script. Eleven drafts. I've never written that many drafts of anything but this story really demanded to be as tight, as interesting, as suspenseful and as emotionally compelling as possible.
Williams (left) with producer, Anthony Davis
courtesy of Mshon Pulliam
Hiring a fantastic team was the first step. My producer Anthony Davis and I are all about working with talented people who have good energy. For any film to breathe with life, you have to get the right cast. I was so fortunate to get these incredibly gifted actors: Nia Fairweather, Antoinette LaVecchia, DK Bowser and Nedra McClyde. They are all brilliant and brought the characters to life beyond anything I had imagined on the page.
Courtesy of Mshon Pulliam
I always knew I wanted to work with Nia. I felt in my gut this was the perfect opportunity. She was profoundly committed to bringing Jessica to life and was just a dream to collaborate with. Since she's in LA and I'm in NY, we had weekly meetings where we'd discuss the script in relentless detail. She really had a handle on Jessica and it helped me as I touched up drafts of the script. She researched the character, the themes and story as tirelessly as I did. It was divine.
Courtesy of Mshon Pulliam
We also had an amazing (I must emphasize AMAZING) crew who worked so hard on set and just seemed to be super excited in bringing this script to life. The entire crew was a joy to work with. My DP Adam Richlin is super talented and totally understood what I wanted to capture visually. It was really magical just looking at that monitor each day on set and seeing this script come to life. Magical. That's pretty much the best way to describe this entire experience so far.
Check out the trailer below and let R. Shanea know what you think
PARALYSIS - SHORT FILM TRAILER from R. Shanea Williams on Vimeo.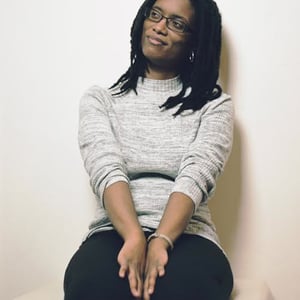 About the Author
R. Shanea Williams is an award-winning filmmaker, writer, script consultant and proud nerd, who resides in Queens, New York. She loves movies, music, and long romantic walks to the refrigerator. Follow her on Twitter (
@rshanea722
)