With all the recent attention to black-made films or black stories like
Moonlight
,
Hidden Figures
, and
Get Out
, the concept of inclusion and validating the African-American experience has now become a possibility as filmmakers defy the odds and present their visions, their voices, and their stories to the mainstream. Now is the time to take hold of the momentum, and Audre's Revenge Film Collective is the perfect time to start a grassroots, D.I Y. level of filmmaking for queer, bi, and trans people of color to bring their genre stories to the screen.
As a woman of colour, a Black woman who loves horror, it can be a chore sometimes to reaffirm that yes, you enjoy horror films, and yes it's ok for someone "like me" to enjoy horror films. The same can be said for loving metal or punk music, which I also enjoy. Imagine what it would be like for a person of color who identifies within the LGBTQI/QTIPOC community and also loves horror, metal or punk. You may not feel welcome even though these genres are typically made up of people who associate with being an outsider.
This is why Audre's Revenge Film collective is so important. Created by Monika Estrella Negra, an African-American woman who strives to not only represent women of colour, but all people who identify as queer and trans in the horror genre looking for a space where they can feel autonomous with their creativity. Named after Audre Lorde, a Black queer poet, feminist and activist that championed inclusion in her lifetime, it is here that Negra, along with the collective of fellow filmmakers, artists and writers, curates and provides a safe space to flourish and promote their art to the world.
I recently attended a screening held by Audre's Revenge Film in Toronto where Negra, along with her co-presenter Miriam B, played 3 shorts from their collective. They were curated to convey the journey from captivity to escape or freedom in their own unique ways. This theme is only one of the ways for those who feel oppressed by society's imposed social norms to express their own stories.
The first film, entitled
Feral Child
by Maya Lori, consisted of the mostly silent movement of two women in an abandoned house. Shot in their actual childhood home, the symbolic short was an experimental offering illustrating how women of colour deal with self-loathing with hints of exorcism and shamanism.
Flesh
, directed by Negra, came from her own experiences as a Black, queer woman in the Chicago punk scene. Described as "an avant-garde horror mash-up that follows a Black woman's journey in destroying harmful habits. Internalized racism, misogyny and eurocentrism are topics discussed in this fast-paced horror short". The main character Rae (Esther Matthews Algeria), must navigate through spaces she has every right to be in but deals with being ignored or not considered as viable in these spaces. She uses this invisibility to lash out, turning the tables when she becomes a serial killer. Negra wanted to break serial killer clichés and look at "society's perceptions of beauty and privilege."
The third film,
La Rabia de Clara
(Clara's Rage) directed by Michelle Garza Cervera, shows us Clara (Mayra Hermosillo) who is literally and figuratively trapped in her traditional home by her mother and husband. While Clara waits dutifully for her husband as he hunts for a pack of wild dogs that terrorizes their village, she wonders what lies beyond the wooden walls of the shack she lives in. It is a heart-wrenching representation of traditional values that hold women back in societies that value patriarchy as the norm.
After the screenings, the Q & A session was engaging and brought up many talking points stemming from current happenings in the horror genre and the world.
Negra talked about her experiences as a black queer punk in Chicago and how she wasn't accepted as a person of colour. Founder of the now 6-year-old punk festival called the
Black and Brown Punk Show Chicago
, she knows first hand how it felt not to be accepted at punk shows she had every right to be at. Her horror experiences were based on the senseless violence towards black and brown bodies committed on a daily basis in America. It's so ingrained that, as Negra explained, there seems to be an entertainment value as people post videos and pictures of these victims and their murders. In her film
Flesh
, she wanted to explore a character that takes her power back by committing murders and getting away with it. She felt that with horror moving into the mainstream, and with Black stories being told with films like
Get Out
, now is the time for the LGBTQI/QTIPOC community to come up and tell their stories through the medium of film. She also felt that "tragic" stories of people of colour have been played out too long, and real stories of everyday life had to be told, including and especially those in LGBTQI/QTIPOC community.
For
La Rabia de Clara
, the director who lives in Mexico sent a few statements on her film. The character was based on her great grandmother who disobeyed her traditional family. She changed her name and got a job, which, in Mexico at that time, was unheard of for a woman. Cervera also touched on the racism towards Mexicans by the current U.S. president, and how society in Mexico was complex and not what North Americans would expect. The country had a bleak and skeptical view of North America in general and she also brought to light the struggles of women and patriarchy as well as deported Mexicans in their own country once they returned.
The real issues of racism and "oppression Olympics," or which marginalized group had the most to deal with notwithstanding, Monkia and Mariam had a simple answer to the discussion of the night: speak up and be heard. Say something if you hear or see micro-aggressions against people of colour and those who identify outside the CIS world; tell the oppressors that what they say and do without thinking is not okay. And they also encouraged picking up a camera or your phone and represent your own experiences so that the status quo can be turned on its head. By creating with items on hand, and in a way rejecting standards in some areas of the film and art world, they stressed the need for going beyond preconceived notions in order to find one's voice.
It's shocking and disheartening to realize that in 2017, we have to have these discussions on inclusion, and with the current political climate in turmoil as people of colour fight for their rights in the supposed land of the free, it's also frightening. It's fitting, then, that the horror genre is an outlet for the oppressed to express their stories, fears and anger. Audre's Revenge Film collective brings a ray of hope, and I'm certain the work of people like Monika Estrella Negra and Mariam B will make a difference. They will inspire and mobilize all those who are oppressed to find their voices.
Monika and Audre's Revenge Film will be screening the 3 shorts over the next few months.
Go to their website:
www.audresrevengefilm.com
for the latest dates and locations to see them!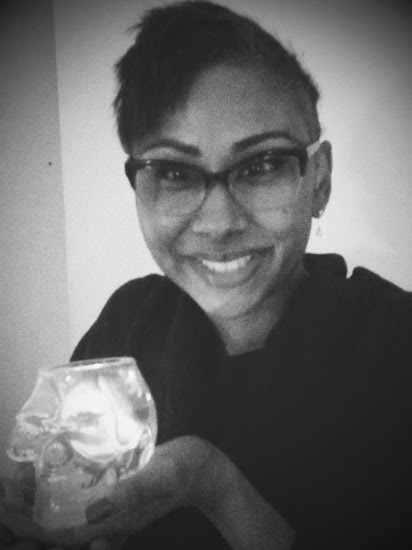 About the Author
Carolyn Mauricette is the founder of Rosemary's Pixie and contributing author to the Woman in Horror Annual and The Encyclopedia of Japanese Horror Films. She lives in Toronto, Canada where she is also a programmer for the Blood in the Snow Canadian Film Festival. You can follow her on Twitter (
@rmpixie
)