Dispelling The Magic: Juju The Web Series, Episode One Recap
Adulting is be difficult. But add discovering your history through inner ancestral power with Salem descendants hot on your tail as a black milennial woman who cannot make bills, dating whomps, and burnout magically disappear... you've got Juju.
Review by
Carolyn Mauricette
(
@vfdpixie
)
The Merriam-Webster dictionary defines Juju as "1: a fetish, charm, or amulet of West African peoples; 2: the magic attributed to or associated with jujus." So, a charm or amulet can be infused with energy and is worn for protection or to relay a curse, depending on the intent. While this definition gives a broad view of what Juju is, it doesn't give it the life it deserves, or the proper representation. If it appears in popular culture, it's probably through a white-washed version of this ancient African practice; snippets shown in films that don't really take into account the origins of this type of magic. And when you don't see something properly done, sometimes the best remedy is to do it yourself.
Director and producer Moon Ferguson (
@_moonferguson
) is tired of not seeing herself represented in supernatural and horror narratives. Being a fan of the genre's most beloved shows from
Charmed
to
Buffy the Vampire Slayer
, she decided to create her own series and characters who she and many other black horror/fantasy fans could relate to. Through hard work via crowd-funding and campaigning, as well as dealing with personal tragedy, she kept her eye on the prize and hung in during the difficult times. Flexing her creative muscles, Ferguson, along with writers Belle Brooks, Farrah Daniels, Wisdom Johnson, and Janeen Talbott, wrote
Juju: The Web Series
, a story of three young black women whose supernatural destinies are yet to be discovered. Ferguson not only wanted black representation in genre, but also wanted to make sure she showed the good in the Juju practice instead of the stereotypical bad magic witch tropes.
Yaya (Cassandra Borgella), Ally (Cyndi Jenkins) and Gigi (Nedge Victome, above) are best friends living their lives in Brooklyn. Yaya and Gigi throw a surprise party for the stressed-out, overworked Ally, but they are unaware that the botched-but-lit party is the scene for a life-changing series of events. Adaoma (Dierdra McDowell) is a witch who is on a quest and her instincts bring her to Ally's party. She relies on her ancient knowledge to get what she needs, and to the shock of the three women, tells them something extraordinary - they are, in fact, witches. This is something they can barely grasp, especially in this day of technology and instant gratification, and must deal with the consequences of their new paths.
The pilot titled, "One Time for The Birthday Witch" sets the tone of what promises to be a wild ride. With millennial issues like online dating, working long hours and playing hard colliding with ancient magic, Ferguson and her writing team peppers in the challenges, supernatural and mundane, these women face with dry efficient humor that hits hard and fast.
Ally, Yaya, and Gigi are three very different characters yet they work as a trio: Ally is a queer, driven workaholic, Yaya is, as described by Borgella in a recent interview, the empath, and Gigi is the sensual, earthy and uncensored voice. In an interview on the podcast
An Extra Fif
, Ferguson said she wanted to represent the differences in a real-life community of women who somehow form a bond despite their differences, and the performances of the main actors do a great job in conveying their unique personalities. The production has a DIY feel with polish, and minimal but effective special effects, but that doesn't take away from the show, instead emphasising the "realness" that is Brooklyn.
Simply from reading the comments on the first episode, this series is needed. There were many viewers that longed for a black version of
Charmed
, and they raved about the characters, relating to them, and made reference to the Easter egg clues that may or may not reveal more in the upcoming episodes. This in itself proves Ferguson, along with her multi-talented team, is on the right track to creating a narrative that fills the representation gap by using her know-how to create something black horror and fantasy fans what to see.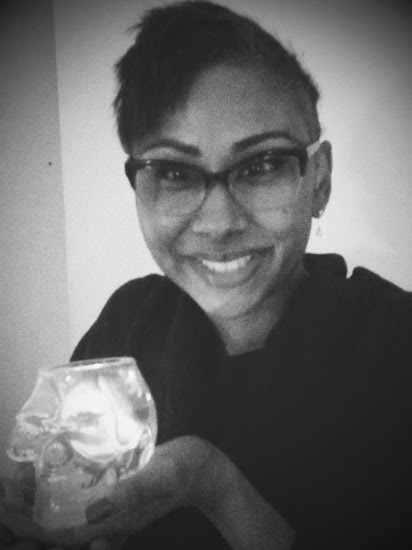 Carolyn is a film programmer for the Blood in the Snow Film Festival and a contributing author to the first edition of the Women in Horror Annual, The Encyclopedia of Japanese Horror Films (Rowman & Littlefield), and The Encyclopedia of Racism in American Films (Rowman & Littlefield). She is a Rotten Tomatoes-approved critic and has also written pieces on diversity and women in sci-fi for

Graveyard Shift Sisters
, film reviews for

Cinema Axis

,
and Rue Morgue Magazine, online and in print, and articles in Grim Magazine. Her focus is on independent and Canadian horror, women in horror, and the representation of people of color within the genre. She has a new site,

View From The Dark
, where she deep dives into race and representation of people of color in genre film. You can follow her on Twitter (

@vfdpixie

)