Dispelling The Magic: Juju The Web Series, Episodes Three & Four Recap
Adulting is be difficult. But add discovering your history through inner ancestral power with Salem descendants hot on your tail as a black milennial woman who cannot make bills, dating whomps, and burnout magically disappear... you've got Juju.
Review by
Carolyn Mauricette
(
@vfdpixie
)
Witch, Don't Kill My Vibe & Da Baddest Witch
The next two installments of Juju focus on Yaya (Cassandra Borgella) and Gigi (Nedge Victome). In episode four, "Witch Don't Kill My Vibe", Yaya realizes she can hear people's thoughts and she is also feeling alone and not supported by her two besties. Gigi and Ally are in their own zones discovering their powers. She seems to be the caretaker of the three, the "strong one" with a soft heart shown leaving a street person a care package. Yaya is tasked with getting her friends together for Adaoma (Dierdra McDowell) to talk to them about their powers. Hearing other people's thoughts is exhausting her, and she is over people in general as she tries to find a quiet moment with the cacophony of voices. She agrees to get Gigi and Ally together so they can get the talk over with Adaoma. She's also a natural healer, and creates her own herbs for friends, so as an empathetic person, all of this turmoil is too much for her.
Gigi learns that she can control people with her mind in episode four, "Da Baddest Bitch", namely all her gentlemen callers. She decides to put it to the test and attends an art opening where she is doted on by all the fellas at the party because of her newly found powers. Her insistent Twitter presence has also put her on the radar of "Hotep Hakim" who has been trolling her online and happens to be at the party. She loses her cool during their heated exchange at the gathering where her magic turns towards a command that is dark and almost irreversable. Before Hakim can kill himself at her will, Adaoma intervenes at the right time and scolds Gigi for her misuse of her power. Her stubborn will can easily mend to what defies what good, protective magic is all about. With each young woman being so different and hesistant to embrace this new journey, one wonders what the inevitable meeting will bring for them?
Adaoma gives the women snippets of what they can do and how they can use their powers, but it's becoming evident that they need to learn how to use their gifts and the dangers of their powers before they are left with something they all can't handle. The characters have now all been established with what they can do and where they fit within the dynamics of the trio, so it will be interesting to see how they grow and accept their roles. We also know that Chelsea, our nasty witch with an agenda, is still working her mischief. She tries to get to Yaya by controlling one of her friends who almost assaults her under Chelsea's spell, and in episode four, we get a hint of someone that maybe after Chelsea herself.
As much as I love this series, I did notice episodes three and four seemed to lose a bit of energy. I'm not sure if it was technical with some sound issues and editing, but they both seemed a little rushed. The production is great for a web series and the writing team is taking time to flesh out the characters, but there needs to be some attention paid to the sound design. What is most important with the series itself, however, is the building of community, both on and off-screen. Yaya, Gigi, and Ally all stick together in tough times, and we want to see them grow as the series progresses. The viewing community that rallied for Juju continues to extend even more support as the series evolves with the three witches, growing pains and all.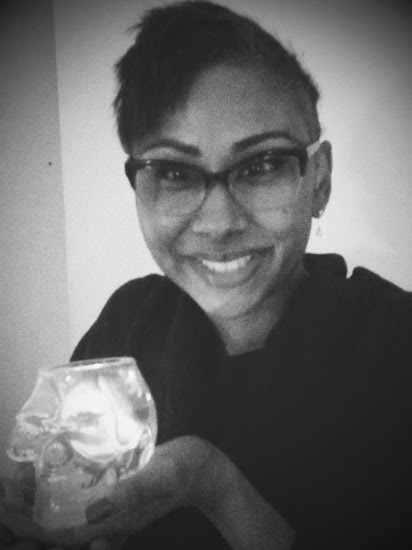 Carolyn is a film programmer for the Blood in the Snow Film Festival and a contributing author to the first edition of the Women in Horror Annual, The Encyclopedia of Japanese Horror Films (Rowman & Littlefield), and The Encyclopedia of Racism in American Films (Rowman & Littlefield). She is a Rotten Tomatoes-approved critic and has also written pieces on diversity and women in sci-fi for

Graveyard Shift Sisters
, film reviews for

Cinema Axis

,
and Rue Morgue Magazine, online and in print, and articles in Grim Magazine. Her focus is on independent and Canadian horror, women in horror, and the representation of people of color within the genre. She has a new site,

View From The Dark
, where she deep dives into race and representation of people of color in genre film. You can follow her on Twitter (

@vfdpixie

)