Dispelling The Magic: Juju The Web Series, Episodes Five & Six Recap
Adulting is be difficult. But add discovering your history through inner ancestral power with Salem descendants hot on your tail as a black milennial woman who cannot make bills, dating whomps, and burnout magically disappear... you've got Juju.
Review by
Carolyn Mauricette
(
@vfdpixie
)
Callin' My Spirits & Sufi Women, Part 1 [Finale]
Episode five of
Juju
, "Callin' My Spirits", gets to the heart of things with the three witches as Gigi, Yaya, and Ally finally meet with Adoama so she can reveal to the trio more about who they are.
In the last episode, Gigi met a guy named mysterious guy named Jules (Tremayne Miller) One of her boyfriends, Kyle notices and isn't happy with any additional male attention she receives. In fact, he wants her to be monogamous with him, but she's turned off by his request and treats him harshly. Her anger also unleashes her powers, knocking him out cold. Before the women can freak out, Adoama comes to the rescue and tells them they're witches just like her and were always meant to find each other because they are magically linked. Yaya and Ally discover they both possess a crystal with a exact symbol that has been passed down to them from their mothers.
This starts to make sense to them, but Gigi hasn't had the same experience. At Adoama's compassionate suggestion, Gigi makes a difficult call to her father. 'Did mom leave me anything?' was the essential request, the message was left in his voicemail. We finally see a crack in the dam that Gigi has carefully erected. It would be great to see more of her depth pushing through her emotional blocks. What's behind her estranged relationship with her immediate family? Will she fully and maturly embrace the bond with herself, Ally, and Yaya that is growing stronger? This coming together is critical as a growing evil threatens their newfound bond and skills.
The following episode is the finale. It's broken up into two parts and part one, "Sufi Women," shows us how Ally, who is still skeptical of their powers, is secretly desperate to have her Abuela (grandmother) back. She uses the spell book that Adoama introduced to, the exact one her Abuela had, in an attempt at resurrection. Adoama scolds Ally, realizing she has her work cut out for her. These three women are still learning just how powerful they are and unaware of the rules of being a witch.
Gigi later receives a small box on her doorstep, presumably from her unseen father with a note that her mother left her, predictably, a crystal similar to Yaya and Ally's. At the same time, Kyle arrives deceptively apologetic and Gigi's moment of forgiveness allows for an opportunity for Kyle's unknown plans to move into action. We're left with a cliffhanger; one that shows the imminent danger the women are in.

It's clear that our three young witches need help to control their powers so they can be ready to battle with the evil forces circling them, but whether they are truly ready to harness their greatness is yet to be seen. With Ally still hiding her doubt laced with desperation, Gigi's flippant use of her powers of control and Yaya trying to be the mediator at work and between her girls, I wonder if they will be able to focus in order to defeat the mysterious and evil Jasmine and her cohorts.
We'll have to wait for the second part of the finale to find out!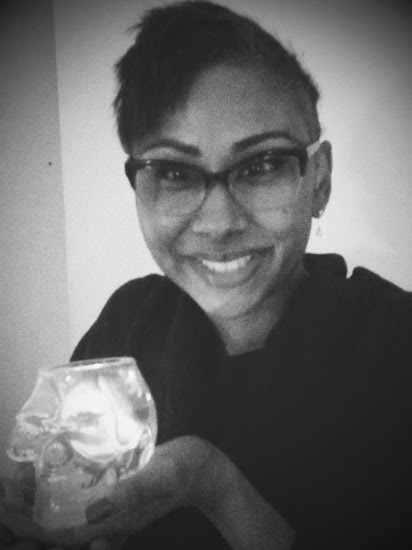 Carolyn is a film programmer for the Blood in the Snow Film Festival and a contributing author to the first edition of the Women in Horror Annual, The Encyclopedia of Japanese Horror Films (Rowman & Littlefield), and The Encyclopedia of Racism in American Films (Rowman & Littlefield). She is a Rotten Tomatoes-approved critic and has also written pieces on diversity and women in sci-fi for

Graveyard Shift Sisters
, film reviews for

Cinema Axis

,
and Rue Morgue Magazine, online and in print, and articles in Grim Magazine. Her focus is on independent and Canadian horror, women in horror, and the representation of people of color within the genre. She has a new site,

View From The Dark
, where she deep dives into race and representation of people of color in genre film. You can follow her on Twitter (

@vfdpixie

)